Jigging soft plastics with offset hooks
Soft plastics / baits are a huge family of spinning lures. They made of soft and flexible plastic which can be scented, salted or flavored and colored or painted in various ways. If we want to group them by shape there are soft swimbaits, soft jerk baits, grubs, creatures, craws, lizards, reapers and leaches, stick baits, tubes, worms, frogs… and I am sure I haven't mentioned them all. They can be used in many ways like Carolina and Texas rig but in Europe other rigs seemed more popular. I would like to share my experience about the ones used by us.


The beginning with simple jigs
I had my first grubs (twisters) in the 90s as a gift. I used wobblers and spinners but nothing like this before. The first test was several months later in February by the river Ipoly (Ipeľ) with my father and brother and it was life-changing moment. We caught several beautiful zanders in a very short time with my "new" double tail grubs in white color on simple jig heads. After the spawning season I had never seen success with pikes too.


Jack pike on soft plastic rigged with a jig head
But there were some problems with the jig heads. It was hard to find the right size of hook with the right size of head. And this is very important for the right presentation. The size of the hook depends on the size of the lure. A head of the jig gives the weight so the depth, the strength of the current and the wind also can be a factor when you try to choose the right one. This means you have to take a lot of different jigs with you. The quality of the hook was not always the best.
The other problem with it that it is very difficult - or expensive - to use it on areas with lots of snags, flooded trees and heavy vegetation. Even the hook looking upside can easily snag in such lure killer areas. You can find anti-snag jigs with a wire spring or weed guard protecting the hook. However this has all the disadvantages of the original jig hooks and it's still not perfectly snag-proof but work much better.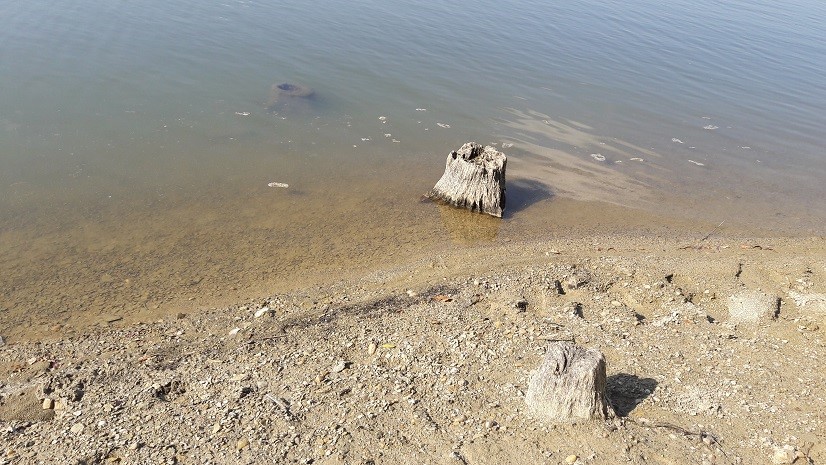 Cut trees at the bank. Concludes that there are more under the surface


The Cheburashka sinker
The next big step was the Cheburashka sinker. With the removable wire in the sinker you can attach any kind of hook. There are different shapes for different situations. Ball shaped for everyday use, bullet for vegetation and ivory for a slower presentation. The material is usually lead but you can find tungsten sinkers also.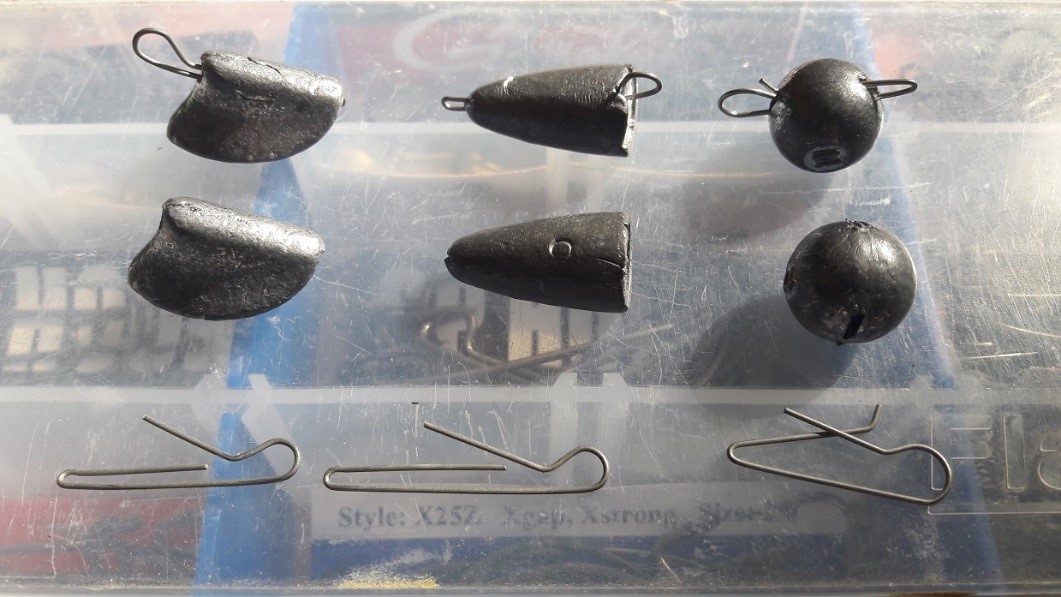 Cheburashka sinkers: ivory, bullet and ball shape
This new system has a lot of advantages listed below:
The sinker and the hook is not fixed. It allows flexible movement to the lure.
The flexible sinker allows the hook to move independently making it harder for the fish to throw it during the fight. Very useful if you are using heavy sinkers.
You can adapt your rig to a new situation very quickly.
You can match any kind of hook to the sinker which has an eye. This gives a great variety and you do not have to take a hundred - or more - jig heads with you.
If you need a bigger sinker you do not have to take off the lure from the hook like in case of normal jigs.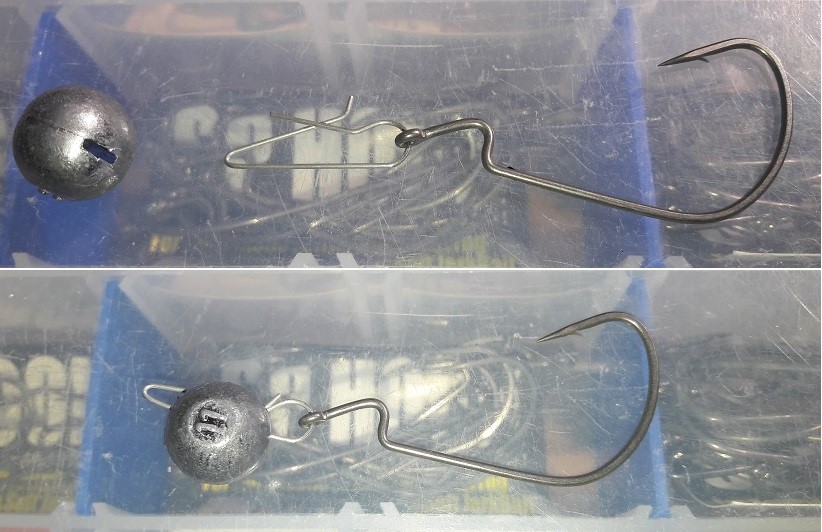 Assembling a Cheburashka sinker with an offset hook
If you are choosing a Cheburashka sinker, make sure that the wire is not too thin and the hole is not in the center of the sinker. It has to be somewhere in the 1/3 of the sinkers diameter preventing spinning around itself while the rig is sinking.
As usual there is always another point of view as well. The only disadvantage I can mention, is the strength of the removable wire. There is a maximum limit of the diameter where this wire can be shaped and inserted in the sinker. This is usually 0,6-0,7 mm in a good quality Cheburashka. If you use braid under 20-25 lb there is nothing to talk about, it is perfect. But, if your target is a big pike, a big zander or maybe a catfish with heavier tackle, the wire can bend and slip out from the sinkers hole during the fight. It means, we are going to lose the fish with the hook in its mouth. And this is the last thing we want when we hooked in a trophy sized fish.
It is also very important to use a snap don't tie the line directly to the wire. The snap will be also a stopper which prevents the sinker to slide off the wire towards the line.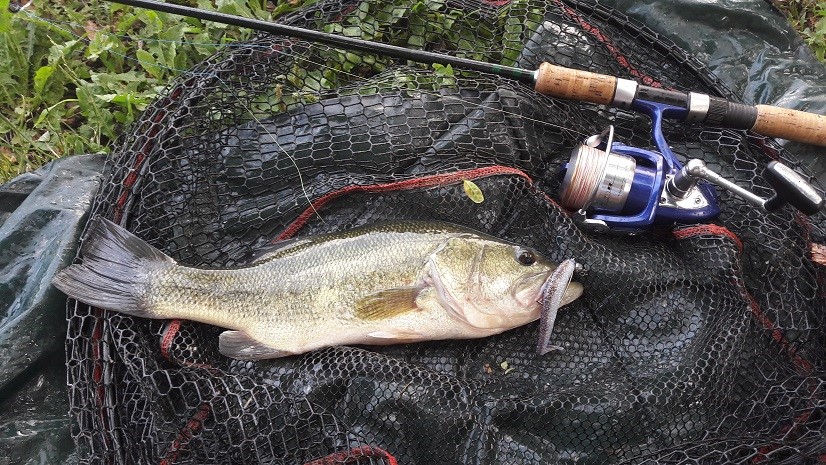 Largemouth bass caught with Cheburashka jig


Flexible jigs
Thanks to the fishing industry, there is an option for heavier applications as well. These jig heads are equipped with a fix wire but you can change the hook easily with the built-in snap or fastach system. The only downside is the price, they are usually more expensive than Cheburashka sinkers. We have the perfect sinkers now we need hooks!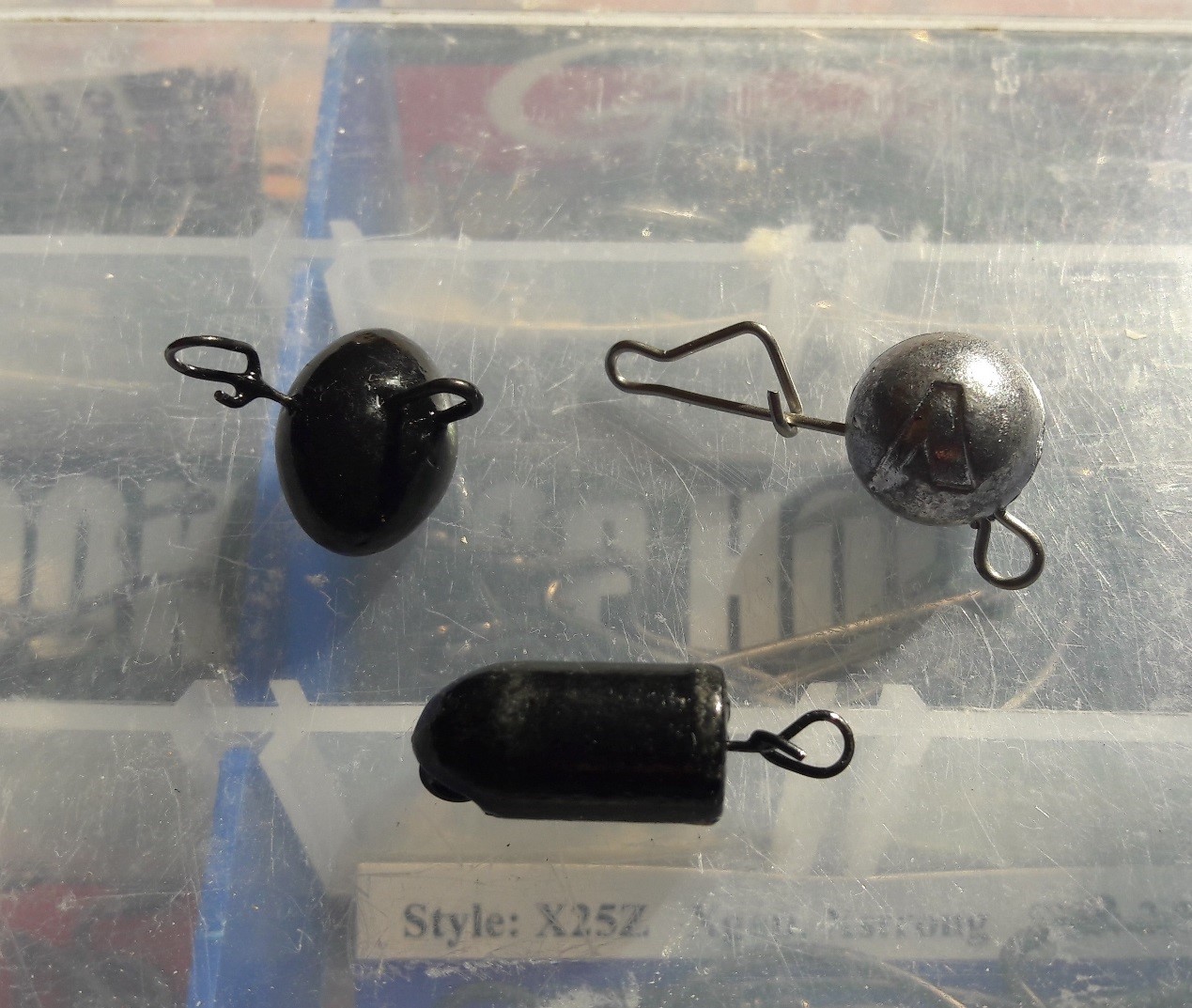 Flexible jigs


The perfect hook for soft plastics
I prefer fishing in the middle of structures, around flooded trees so I needed something which is snag-proof. And this is the ideal environment for offset hooks. I've tried dozens of hooks from many different brands. Because they were quite unknown in local shops I had to order them from overseas. Most of them are designed for catching largemouth bass which has to be taken into consideration when you choose a hook for zanders or pikes. Largemouth basses are a smaller fish species so in most cases the hook is not as strong as we need. What we search for is called heavy wire, heavy duty, X-strong, 2X - or something like this - among offset hooks.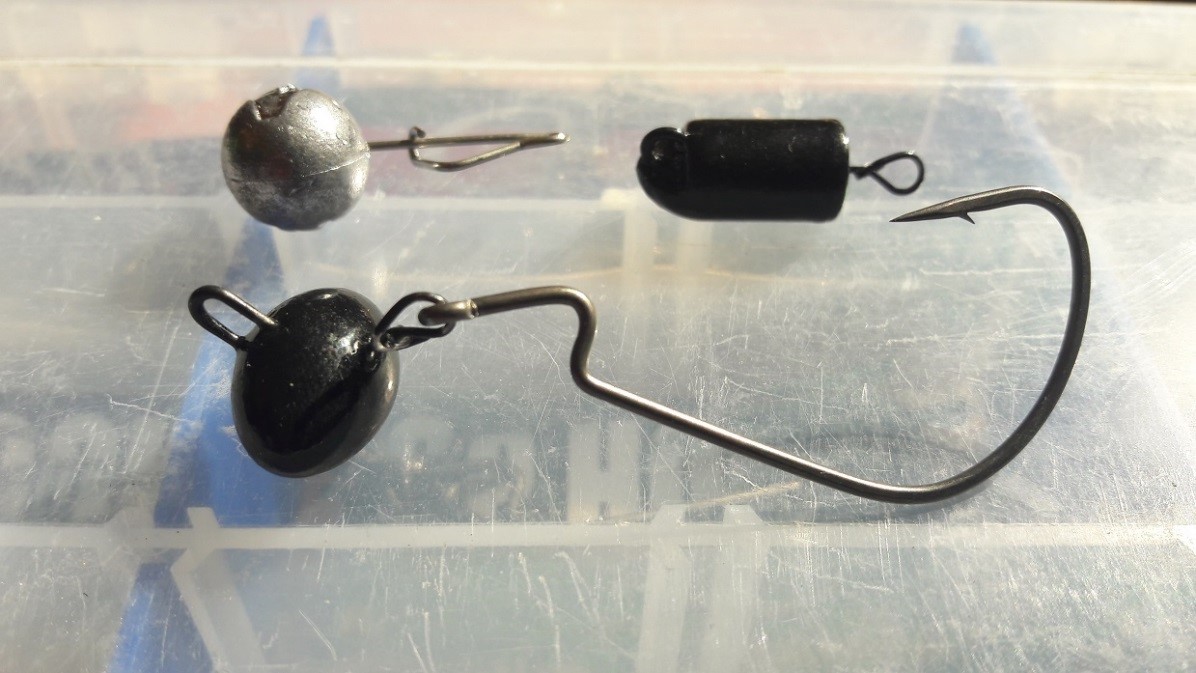 Fastach jig with Ichikawa SP hook

One of the best offset hooks I fished with this technique is the Ichikawa SP hook. I will list you the points in details you have to take care if you would like to choose a hook for soft baits like this as a good example.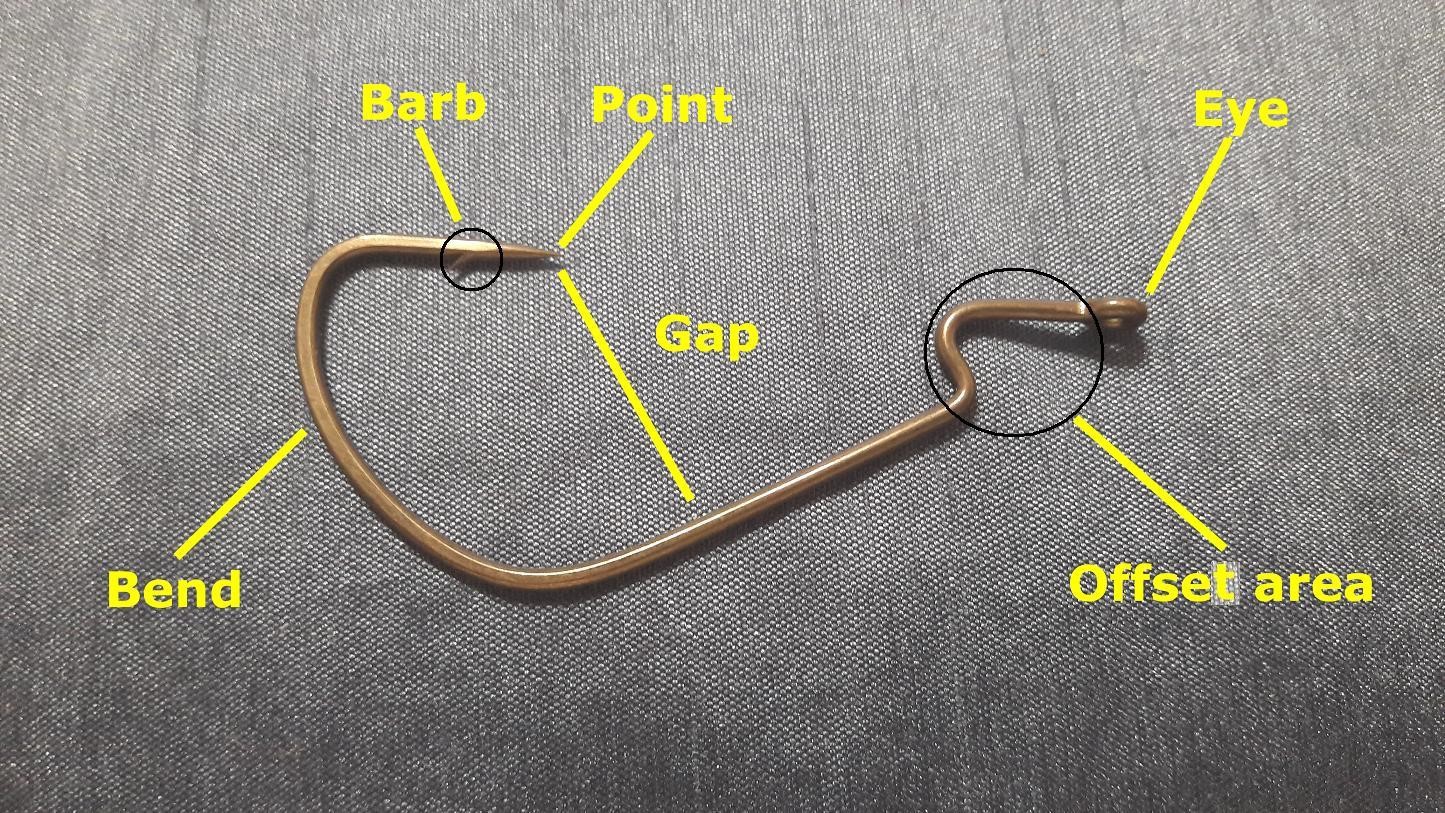 Parts of offset hook


The long-eyed offset area
The lure is contacted with an offset hook in two points. One is the offset area behind the eye and one where the bend is going across the soft plastic. The most important connection point is the offset area. This area holds the head of the lure. If it is too short the plastic lure will tear easier after a bite, or will slide down after a powerful casting. Ichikawa SP hook has a long-eye offset design which will meet our needs perfectly.



Position of the offset hook in a soft plastic

When you rig a lure do not forget to put them next to each other first to see they match perfectly and to find the points where the hook might go through. In the beginning it is a great way to mark these points with a felt tip to make rigging easier. It is important to rig the lure straight. If it's too tight or it's too loose it may slide on the bend in a wrong position.

The bend / gap
Basically, there are round bend and wide gap offset hooks. The round bend is suitable for thin profile soft baits, for example worms. Ichikawa TG1 is a perfect example for round bend offset hook.
For soft swimbaits wide gap models are more suitable. The size of the gap is very important. If it is too large it can modify the lures movement. If it is too small,l the hook-up will be less successful because there is not enough free space for the lure to slide away. SP hook has just the right gap size.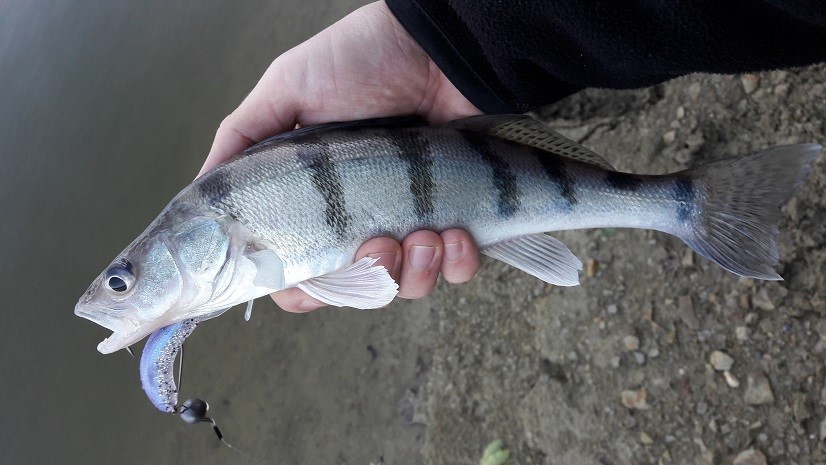 Volga zander meets SP hook

Lots of anglers think that it is harder to hook the fish with an offset hook than with a normal one because it is hidden in the lure. Believe me, this is not true. If we choose a suitable hook, the plastic will slide on the bend during the bite – as you can see on the previous picture - and the point can penetrate easily.
The wire
As I mentioned before, offset hooks usually designed for largemouth bass fishing. The reason is, it's a very popular sport fish in Japan and in the US as well, where lots of great brands comes from. If we want to use it for zander or pike fishing we need to choose strong wire models instead of finesse and regular ones. But do not forget that a heavy treble hook can ruin a wobbler's movement which will make it less effective. This is also true for soft plastics. We need to find a hook with a strong but not too heavy wire if we want to catch bigger fish in hard conditions and keep the plastics true movement. SP hook has a heavy wire with a smooth PTFE coating but with a reasonable weight.
I have to mention that if your target is specially catfish, an offset hook wouldn't be really suitable for such strong requirements. On wobblers, we use 3X and 5X trebles for big catfish so it wouldn't be fair to expect the same from a 1X or 2X offset hook. Of course, it is not impossible to catch a big one with it but only if Fortuna is on our side and the hook penetrates properly.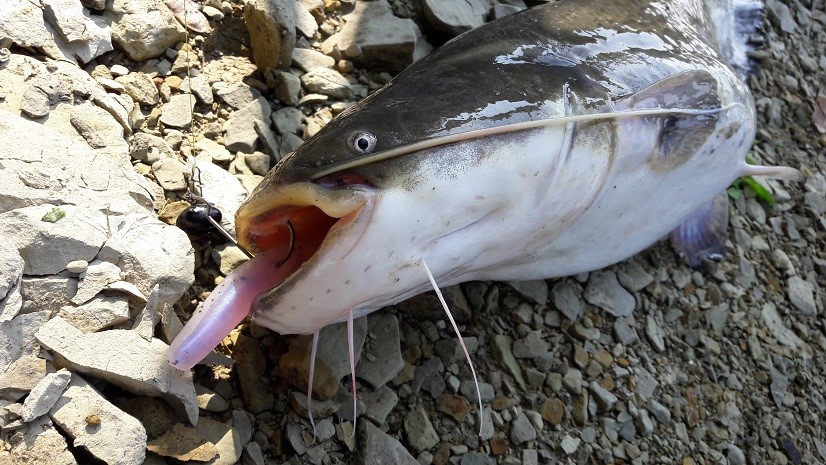 Young catfish is not a real opponent for the heavy wire of Ichikawa
And another thing! Todays flavored, salted or scented soft plastics may contain ingredients which can cause corrosion on the hook's or on the sinker's wire. If you are not using them for weeks it is recommended to separate them.
The barb
The barb is usually an underrated part of the hooks but for me it is also important. It is much easier to remove the hook with a small barb but in the case that it is forbidden by local regulations to use barbed hooks, you can easily fold it down with a plier. I do it more and more times because it makes less damage in the fish's mouth.
Choosing soft baits for offset hooks
This topic worth another article but here are the most important guidelines.
Thin or flat profile soft plastics are the most appropriate for offset hooks. If you search for paddle tail soft swimbaits on the web you will see nearly all of them meets that.
Plastics with big bellies are not for this kind of rigs but they are perfect with simple jig heads or simple hooks with Cheburashka sinker.
Most of the soft bait brands offer models with hook pockets on the back and/or on the belly for the hook. These are very useful -especially on the belly- they make rigging easier and help avoid snags. When the fish bites the lure, it will move easier out of the way of the hook. If you find them on a soft plastic it will be perfect with offset hooks. For 4 inch (10 cm) long, thin profile lures, I recommend SP hook in size 1/0. For larger, bulkier ones around 5 inch (13 cm) size 3/0 will match perfectly.
If your favorite soft plastic has no hook pocket do not worry, you can make one with a sharp knife. It will work as well as the others molded with one. Just cut the plastic from the belly in 2/3 of the lures height. Do not forget to leave 0,5-1 cm – depending on the size of hook you would like to use- from the head because there you will insert the offset area of the hook.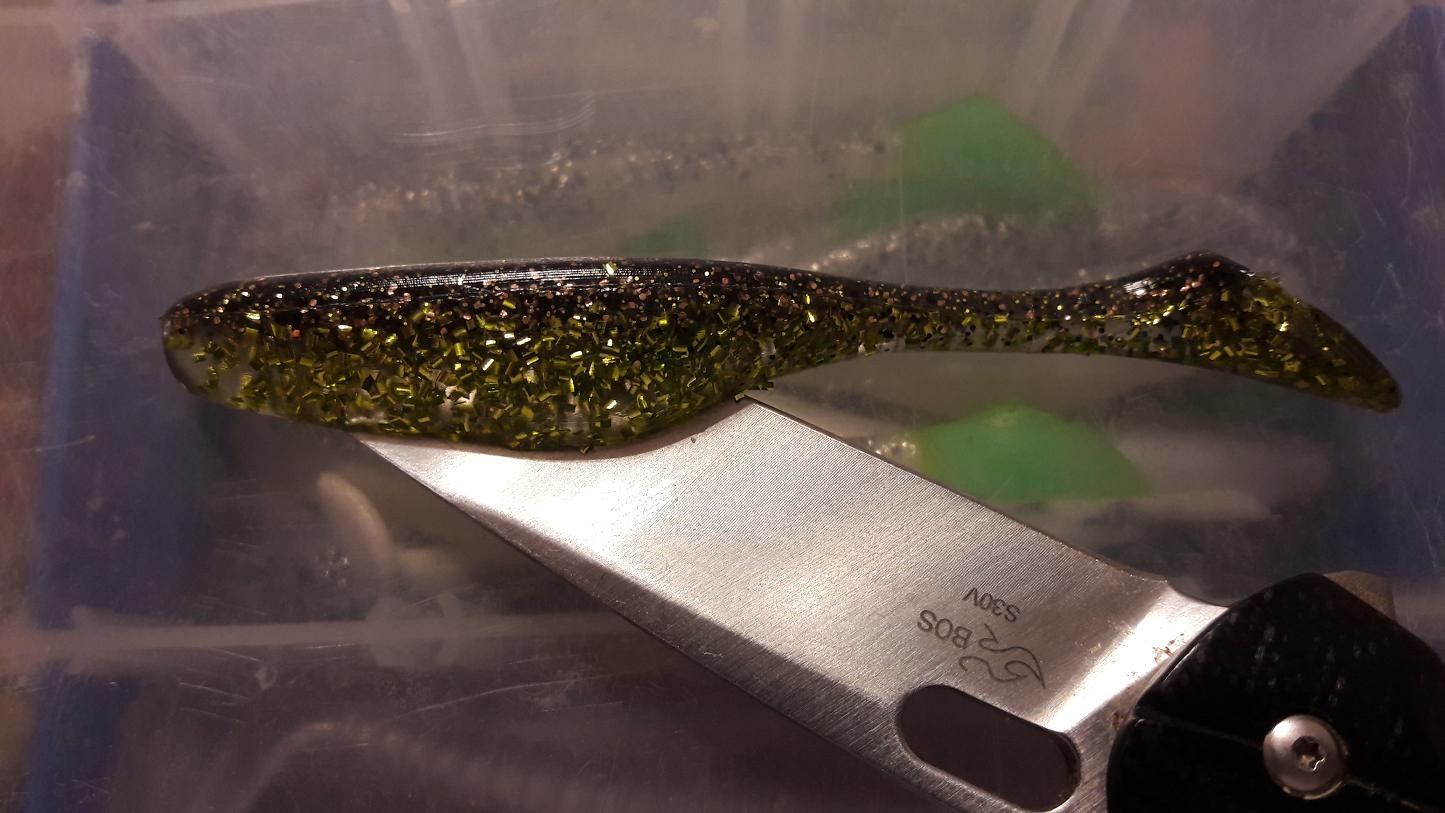 Home made hook pocket on the belly side
Tight lines!
Hope you find useful information in this article about these rigs. If you haven't tried this kind of fishing yet, give it a chance. It will make you enable to explore new spots where you have probably never stopped before because of the snaggy environments.
Of course, nothing is 100 percent snag-proof but you can minimalize it with offset hooks. If you snag, most of the time the cause is not the flooded tree or rock but the torn lines tangled on it. These lines can make a "bird nest" on them and the snap or the sinker can entangle in it. I recommend not using not-a-knot in areas like this, because it can snag very strongly into these torn lines. However Fluorocarbon leader can be useful because of its high abrasion resistance and in front of braid it is not cutting into wood so easily.
Jigging soft plastic with offset hook is a very effective technique so please always take care of the fish and limit your catch instead of catching your limit every time.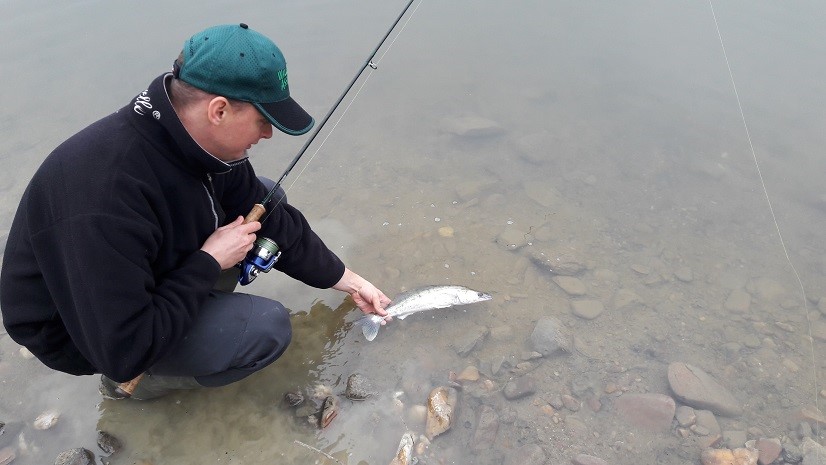 Let them grow bigger


If you have questions or any remarks please feel free to send them through Contact. Enjoy your time on the water and I wish you tight lines!
Csaba Vincze